Cultivating your brand and personal confidence through strategy and design so you can turn your passion into profit
A beautiful and meaningful visual brand begins with an intimate understanding of your unique story
Thoughtful and strategic design and support for women and mamas who run their own businesses. Woman and mamas who struggle with positioning themselves in their industries and standing out above their competition. Women and mamas who feel disheartened by their 'all-over-the-show'ness right now. Who compare their journey to others. Who are cobbling together little bits and pieces of information from every source they've found in the hopes it will provide clarity and guidance.
Women and mamas who deserve a brand they are proud of. Insanely proud. Can't stop won't stop talking about it proud. Making money to support their family proud. Doing something they are good at and excelling proud.
Women and mamas who are trying their fucking best right now and realise they need help aligning their brand to their vision.
Women and mamas like you.
How we can partner on your brand journey
Working to understand your brand intimately, I curate your thoughts and ideas from the pre-project workbook, crafting a fun, understandable and easy-to-use strategy and creative direction. From there, I design a visual identity that really plays to your strengths and speaks to your people, empowering you with a brand that is sustainable, and able to grow with you through every season of life.
All of the strategy, none of the design (just yet). Built with new businesses in mind, this strategy support is everything my clients work through before we start designing. I work with you to understand your brand intimately, curating your thoughts and desires into a fun, understandable and easy-to-use strategy. You'll gain clarity, direction and a brand goal and aesthetic, to help you develop a sustainable brand.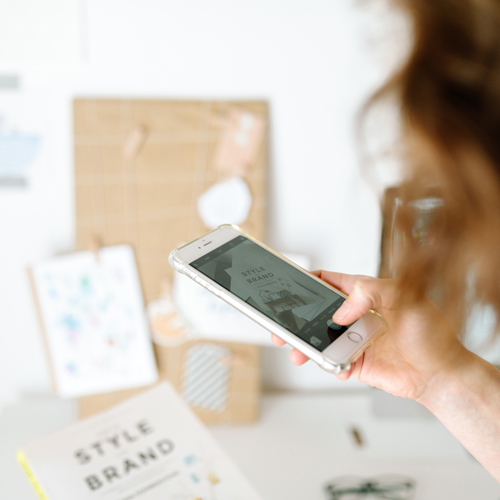 The Story of Your Brand is a powerhouse of a strategy guidebook where I walk you through developing and strategising your brand story and vision. While this is technically a DIY product, I use a healthy amount hand-held guidance so that you truly feel the full support of an expert on your side. Questionnaires, exercises and worksheets, it's over 100 pages of ah-ha moments waiting to happen.
More than a design studio
At Freckled Design Studio, I'm all about the intense discovery processes that result in major and emotional ah-ha moments and allowing you space and grace to make those discoveries about yourself and your dreams.
A sometimes confusing blend of creative and analytical, I cultivate confidence through meaningful and collaborative partnerships. Being able to support my own dreams while helping you support yours is where the magic lies. Being available to lead, guide and, most importantly, listen, means we are developing a strong and tight-knit community of women in business who believe in the strength of sisterhood, the gift of uplifting others and the power we have in standing together.
A brand pop quiz
How intimately do you know your brand?
You've got 5 minutes to find out how confident you are in your brand, vision and understanding of your people? I mean, you don't really have it. But you do want to finish your last 3 sips of cold coffee. And, it's multiple choice, so you don't even have to think tooo hard.
Freckled Clients
I partner with clients who I feel fiercely drawn to, whose stories inspire me and whose drive to create a business that supports their dreams and their family could make me ugly cry.
You've got this far and you haven't clicked anything yet?
I'm genuinely excited to see how I can partner with you on your brand journey. But you need to take the first step.